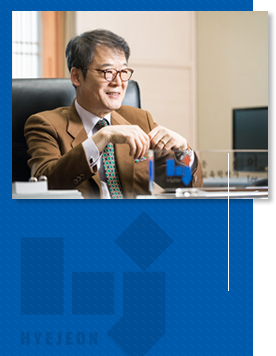 We cultivate outstanding persons of talent that will lead the era of the 4th industrial revolution.
Hyejeon College has produced many excellent students required by the nation in the field of nursing, public health, hotel cooking, and engineering, since its founding in 1981. It is a major college in Korea that discovers students' talents, provides opportunities to persons of talent who have the will to study, and places emphasis on history and tradition.
Our college aims at reinforcing students' capabilities to actively participate in the development of local industry and society and focuses on on-site, practically-based education by connecting with industries.
Furthermore, Hyejeon College not only sends trainees to the top universities and various institutions all over the world including those in the USA, China, Japan, the UK, India, etc. ─ but also improves the quality of learning through project joint researches, exchange students, exchange professors, international semester systems, etc.
Hyejeon College is doing its best to foster students as experts with top capabilities by uncovering their potential talents and help them achieve what they really want with the goal of cultivating creative people of talents that will actively deal with the challenges that lie ahead in the era of the 4th industrial revolution.
College shaping the future with practical intellect!!
Hyejeon College is taking an energetic leap forward today with the goal of cultivating global people of talent with capabilities required in the 21st century.